Photo Pedigree Chart for Ramstaffs Black Eyed Pea
RN04460004 (12/25/03)
Staffordshire Bull Terrier
Rivendell Mirkwood Two Mikes (Boomer)

RM171118601
Mimes Staff Game Boy

RM25969903
Ch Charming Bully Sussie

RM19121602
CH Dauntless Duking It Out CGC (Duke)

RM33059501
Ebonys Flashy Game Lad
KCR Q2835505Q02
Crackerstaff Midnite Star

RM22764901
Single White Female

KCR V3308604V03
RamStaffs Rambo Walk On Top (Rambo)

RM22357406
Ramstaffs Kozzi Sofa King Kool (Kozzi)

RM30825703
Dynamite Lillie Gomez (Lillie)

RM22809603
CH Ramstaffs Im No Pansy (Pansy)

RM35696306
Nazans Patchwork Red

RM22061004
Nazans Miss Ivy League (Ivy)

RM29777904
Nazans As Good As It Gets

RM22993603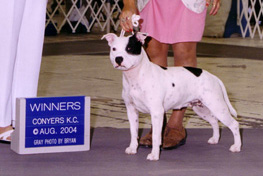 P-nut earned her first 2 AKC points at just 7.5 months old! Thank you to handler Carol M. Stantiford and Judge Dawn Hansen. She has continued to do well in the ring and is on her way to earning her AKC championship title!
Ramstaffs Black Eyed Pea (P-nut)
was born on Christmas morning of 2003. We brought her home just before Valentines Day 2004. She has been a fantastic addition to our family. She has a funny personality, is eager to learn and loves everyone she meets! She is already AKC pointed, attends agility classes and is enrolled in a CGC class. We hope to take the CGC test in the coming months and begin trialing for agility sometime next year. Thank you to Angie & Kevin Beezley for allowing us to bring home this lovely bitch.
A big thank you goes to all the fine breeders of SBT's who came before P-nut and for the use of your photographs on this page. It is most appreciated!